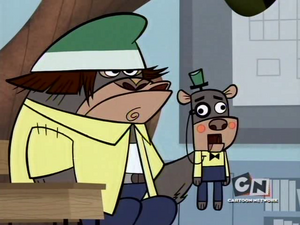 Talking Teddy is the 12b episode of season 2.
Teddy Truman, Windsor's ventriloquist's dummy is enrolled in the school. Adam knows that Teddy is not a living thing, but everyone else thinks Teddy is alive.
Billboard Gag: Cage-Free Learning
Everyone calls Adam's hand "Stupid Hand" in Talking Teddy
Credits: A bus driver drives Teddy Truman to his new school, fearing him at the same time. At the end, the driver screams and goes off course.
Running gag: Principal Pixiefrog and the students call Teddy Truman better than the last new kid (Adam, until final minutes of the episode).
Teddy Truman's name is a parody of Harry Truman and Theodore "Teddy" Roosevelt.
Second appearence and only Major Role of Teddy Truman, first being "Docu-Trauma."
Adam: Windsor, why don't you just take Teddy Truman off your hand? Windsor reaches for Teddy: Now there's a course of action I hadn't considered. (Teddy bites Windsor's finger) AHHH!!!! So that's not going to work. Apparently, Teddy Truman has immense upper jaw strength. (Pulls finger out of Teddy's mouth) Windsor as Teddy: If you think my bite is bad, just wait until you hear my bark! Whoo-hoo!
Jake: I can't wait to meet this one. I mean, the last new kid didn't work out so well.
Adam: Jake, I'm the last new kid. Jake: That's what I like about you Adam. You're always willing to make a point at your own expense.
Ad blocker interference detected!
Wikia is a free-to-use site that makes money from advertising. We have a modified experience for viewers using ad blockers

Wikia is not accessible if you've made further modifications. Remove the custom ad blocker rule(s) and the page will load as expected.