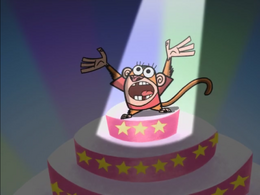 Now I've Got Rhyme
is the final song in "
Animal School Musical
". It was sung by
Jake Spidermonkey
and is a reprise of "
I've Got No Rhyme
".
Jake: Now, I've got rhyme and I've got the rhythm.
I owe it all to my big rear end.
So, I'll just click my high heels together.
Slips/Windsor/Lupe/Ingrid: And we won't have to hear from his ...
(David Coppertrout lifts the curse)
Adam: Pouch!
Adam (Speaking): Wait, what rhymes with end?