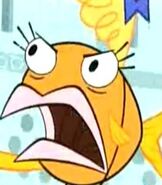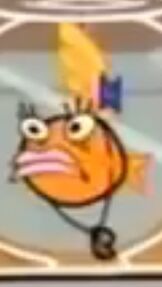 A female goldfish; Coach Gills is the school's tiny, deep-voiced PE and health teacher who instructs her students from inside her fishbowl. Though she looks rather sweet, she's no pushover. She never hesitates to give Adam a hard time if he doesn't perform as well as his fellow students. In Le Switcheroo, she and Adam trade roles for a day. After experiencing some trouble, they at last reconciled. She has mentioned several times in the series that she has no friends. She once was a crush on Mr. Cheetah, an athletic individual who plans to succeed her and Principal Pixiefrog in their careers. Ironically, though she is a fish, she apparently cannot swim. She is voiced by Brian Doyle-Murray (My Gym Partner's a Monkey (TV Show)), and Billy West (My Gym Partner's a Monkey: The Movie).
Ad blocker interference detected!
Wikia is a free-to-use site that makes money from advertising. We have a modified experience for viewers using ad blockers

Wikia is not accessible if you've made further modifications. Remove the custom ad blocker rule(s) and the page will load as expected.