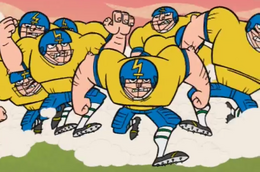 The
Semi-Pros
are the school football team of
Chester Arthur Middle School
. They went head to head with the
Charles Darwin
Mad Cows
in "
Lyon of Scrimmage
".
Biography
Edit
In "Lyon of Scrimmage", the Mad Cows went up against them. They took a pounding for the first half of the game, but with the Semi-Pros needing only one more point to win, Adam kicked his game play into high gear, by stuffing Jake into his uniform, allowing them to even things out. They made the final decision to trick the Semi-Pros, by making them think Henry was a football, which cost them the Semi-Pros the game.
In "The Times, They Are Exchangin'", Adam went back to Chester Arthur Middle School, and looked for his old friends. He glanced at the Semi-Pros, looking as tough as usual, and said "No." to that.
The victory of Charles Darwin Middle School and defeat of the Semi-Pros was still remembered and went down in history as their famous game was mentioned again in "Where in the World Are Adam's Parents?".
Episode Appearances
Edit
Ad blocker interference detected!
Wikia is a free-to-use site that makes money from advertising. We have a modified experience for viewers using ad blockers

Wikia is not accessible if you've made further modifications. Remove the custom ad blocker rule(s) and the page will load as expected.