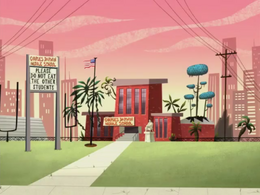 Charles Darwin Middle School
is a middle school for animals.
Adam Lyon
, a human , was sent there on accident, due to his last name.
My Gym Partner's a Monkey
focuses on Adam and his life at his new school.
Affiliates
Edit
The school appears in every episode.
Charles Darwin is the guy who came up with the theory of evolution.
Ad blocker interference detected!
Wikia is a free-to-use site that makes money from advertising. We have a modified experience for viewers using ad blockers

Wikia is not accessible if you've made further modifications. Remove the custom ad blocker rule(s) and the page will load as expected.