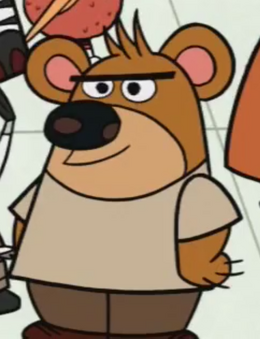 Bear Ted
is a background character and student at
Charles Darwin Middle School
.
Biography
Edit
In "Lyon of Scrimmage", he was an audience member for the Mad Cows vs. Semi-Pros football game.
In "Bad News Bear", he was part of the stampede, chasing Ding Bang out of the Cafeteria and was later seen in the Gymnasium, playing dodgeball against him.
In "Chew on This", he was using the gymnastic rings in gym. After eating human food and becoming fat and out of shape, he was too unathletic to exercise anymore and therefore, struggled with using the gymnastic rings.
In "I Got a New Aptitude", he was part of the crowd of students, looking at the board to find their scores on the career aptitude test. Like every other kid, he got the job of a "Zoo Animal".
In "Animal School Musical", he performed in the song "Waiting in the Wings", as the background character wanting to take a step up to the spotlight. Bear Ted targeted Windsor Gorilla.
In "Lonely Lyon", Chad went in disguise as him, wearing a bear costume, so he could go to CDMS and continue bullying Adam. What happened to the real Bear Ted is unknown.
His name is a pun on "Teddy Bear".