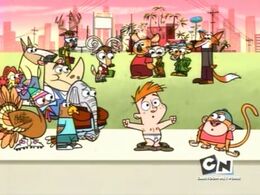 A running gag in the series is for
Adam's Underwear
to be exposed.
Occurrences
Edit
When Adam fully transformed into a monkey, he threw his underpants in Jake's face.
When Jake came out of Adam's clothes, he took the clothes with him, revealing his underwear.
Adam proves how good his body looks, by stripping himself down to his underwear.
Adam clone, A Unit outgrew it's clothes, sans his underwear for the sake of censorship.
Adam sold his clothes to The Cuddlemuffins, aside from his underwear.
Adam gave his clothes to the feral cats.
Adam's scrapbook included a picture of himself and Jake swapping clothes. Since Jake didn't wear pants, Adam was in his underwear.
David Coppertrout revealed that Adam was now wearing Animal School Musical underwear.
Ad blocker interference detected!
Wikia is a free-to-use site that makes money from advertising. We have a modified experience for viewers using ad blockers

Wikia is not accessible if you've made further modifications. Remove the custom ad blocker rule(s) and the page will load as expected.